S. Mazur, "NYT, Met Sing to Collectors: Elizabeth Stone I/V. New York Times & Met Museum Sing To Collectors. 'Dirt Archaeologist' Elizabeth Stone Weighs In," in

Scoop

(New Zealand), online, March 17, 2006: "...

New York Times

chief art critic Michael Kimmelman and Metropolitan Museum of Art director Philippe de Montebello took their 'Who Owns Art' show last week to Greenwich Village's New School and an audience packed with collectors." "Eyes are finally opening, for example, to the knowledge of decades-old collusion of the Met and the

NYT

regarding antiquities. I'm referring to the Sulzberger publishing family ensconced on the Met's board of trustees and acquisitions committee since the 1970s -- as Oscar Muscarella has established -- while the

Times

stable of reporters works the Park and Madison Ave. antiquities soirees." "... Mesopotamian dirt archaeologist Elizabeth Stone -- an invited panelist who continues to ask 'Why was I there?' -- has agreed to share her perspective on the evening." "Dr. Stone is a member of the anthropology faculty at the State University of New York, Stony Brook."

"

Elizabeth Stone:

And they tried to make the argument, which I think is false and certainly is false to the area that I know, that most of the artifacts found are found when someone is building a house or plowing or whatever and what's the poor guy to do. If he takes it into the government, they'll arrest him for digging up antiquities.

Suzan Mazur:

They're talking about digging up antiquities for a percentage on a global basis?

Elizabeth Stone:

Global basis. All over the world.

Suzan Mazur:

Did you find it odd that there seems to be a disregard for the value of the site and the culture that produced the antiquity? Never mind sift[i]ng the soil, the seeds etc. - the story's all on the vase.

Elizabeth Stone:

I find that absolutely stunning. And I think that in the article in the

NYT

, and this was repeated at this event, but in slightly different words, Philippe de Montebello said that, well 98% of what we know - and I think he was talking about Greek vases - comes from the object and not from the context. But you wouldn't even know that these were Greek without the context. You wouldn't know what they were, let alone all the other kinds of information that you can bring in. I mean I mentioned two objects from Iraq where the context is crucial. One of them is the Mesopotamian flood myth which predates the Biblical story by at least 1,000 years. We only know about that because of a series of pieces of unbaked clay tablets that were stuck together. If those fragments had not been dug up by archaeologists, they would never have made it into the market because the market only deals with complete tablets, so they would have been destroyed under the circumstances. And the other is called the 'White Lady' - one of the most important pieces in the museum. The piece was stolen as part of the looting of the Iraq Museum, but has since come back. She was found in a 4th millennium context, so she's one of the world's earliest pieces of professional sculpture. And she's incredible. But she would have been dated 3,000 later had she been found out of context - related to the classical world - because people didn't sculpt in marble again for 3,000 years. So here is a situation where the context is absolutely crucial for understanding the object. I mean it's fine if you want to talk about Greek vases that we know a lot about. We know the artist and we can slot them into a scheme. But that scheme is based on a lot of knowledge and material that has come from Greece."

"

Elizabeth Stone:

Yeah. That's especially the point of Professor Appiah who believes in 'Cosmopolitanism.' ... I confess there's a degree to which I do not disagree. I think it is much better if everybody has access to the art of the world and understands the art of the world and not just the art from within their own political borders. But the point is that if you're stealing it, no one is going to be very enthusiastic about having a lot of these long-term exchanges and loans which would make all kinds of art accessible to a wide range of people.

Suzan Mazur:

And then you're putting it in a private museum. I mean the Met is a private institution - not to mention a secretive one - although it gets public money.

Elizabeth Stone:

Professor Appiah's idea is that art shouldn't just be in museums but should be in everybody's houses so they can live with it. He's very much somebody who thinks that the market should allow art to circulate everywhere so everybody can have everything. ... I do think it's a complicated process because Americans would not have cared about what happened to the Iraq museum, for example, if they hadn't already been exposed to Mesopotamia through going to museums. That I think it is true. And I think museums serve a purpose under those circumstances whether they're public or private. So long as they open their doors. And I do think our understanding of the cause and effect and the morality of collecting has undergone an evolution after 1970. That was a real wake-up call for a lot of people. Archaeologists with whom I'd worked had a few antiquities at home back then. Then in 1970 the profession woke up and agreed. Then some museums like the Oriental Institute of the University of Chicago and the university museum in Philadelphia stopped purchasing antiquities."

"

Suzan Mazur:

You're an Iraqi antiquities expert. Was there discussion about the looting of Iraq to any great degree?

Elizabeth Stone:

Only when I brought it up.

Suzan Mazur:

You brought it up and were there comments from the others?

Elizabeth Stone:

No. Except isn't Iraq a mess. ... Actually, the one conversation that was brought up was that nobody knows where the Iraqi stuff's going right now. It's not showing up in the market. That was in the discussion, that is peculiar. It might also be related to the American Association of Museum Directors' recent statements on ethical policies, which are that you shouldn't buy anything that is unprovenienced if we haven't known about the object's existence for 10 years. The solution for the dealers and museums, of course, is just to build more warehouses. Then once it's been out of the country for 10 years everything's supposed to be fine. So that may be what's going on with the Iraqi stuff, which is covered by the embargo." "

Elizabeth Stone:

I thought of pulling out of the event right at the end when it was clear after I looked at the publicity. I think that on the New School website I wasn't mentioned at all. And on the

NYT

website, it was de Montebello, Cuno, Appiah and 'others'."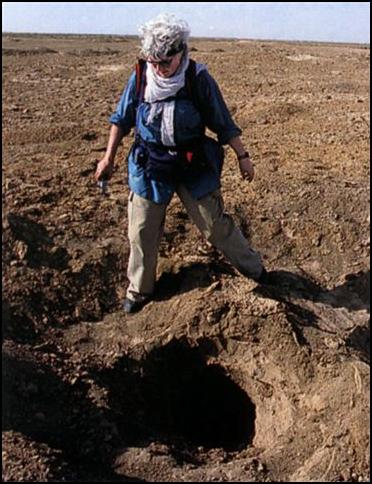 Photo: "Elizabeth Stone examining looting at the site of Larsa, Iraq. Photo Credit: Courtesy National Geographic Magazine" [from 2003]